I have a love-hate relationship with social media.  Oftentimes, I see the value of creating content for my audience and the connection it affords it.  But, I also see the black hole it can suck you into and the massive energy leak it can create both personally and professionally.  I took a very impromptu 2 weeks off from social media and holy heck…if I am being honest it was amazing! 
In this episode, I share what prompted the break, and what I learned and reflected upon while I was away. Most importantly, I share the changes I made (and have kept) since I've come back on.
If you want to be a better coach and add to your toolbox be sure to grab my FREE guide to 10 powerful questions every coach should know! 
Why did I take an unprompted break from social media? 
There were multiple reasons I decided to step away: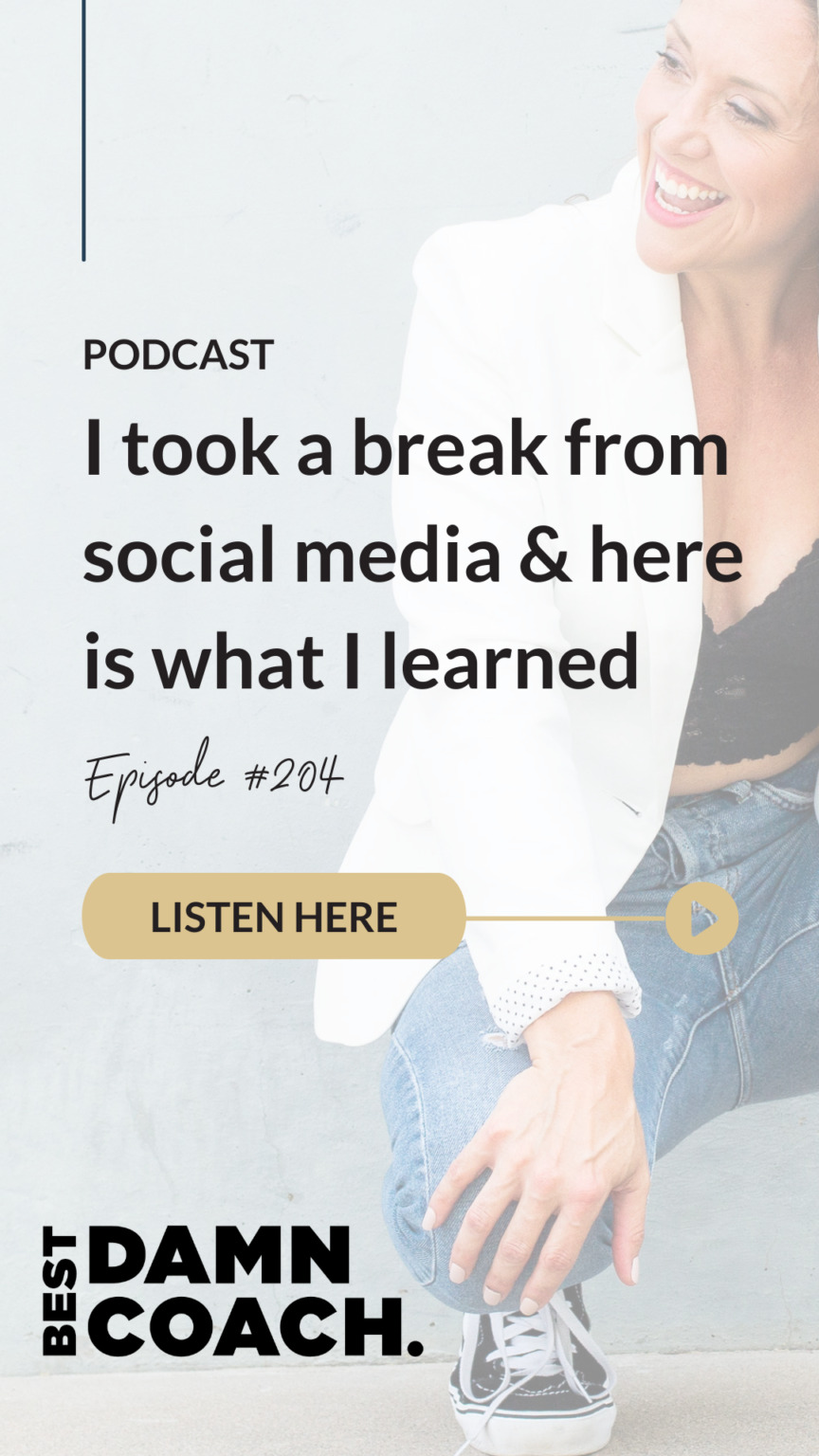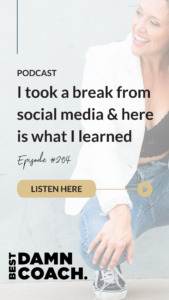 There was a drastic drop in viewership

So much time was wasted searching
I had made it mean so much
It sent me into an energetic drain
I was NOT HERE for it…so I decided to step away and ask myself…
What is really the ROI?
Here are my learnings:
The urge to check was bigger than I expected

Referrals and this show continued to be the place where clients mostly come from.  Why?  Ability to build rapport and trust.  Think about where you go when you want to buy something from amazon.  You can listen to hundreds of women I've worked with here on the show.

Metrics and data to drive decisions
With all of that said–I am back on social with a high-level perspective and calling myself out on stories.
And here is your reminder: social CAN NOT be the only place you rely on for business growth 
Click here to listen to the full episode.
If this resonates with you and you want to improve your own skills as a coach, I want to offer you access to our new, premier coaching program called Best Damn Coach, which is open for Founding members.  Learn more here.
Thank you for being on this journey with me.  I am so honored you choose to listen every week!
Additionally, I'd love for you to rate and review the podcast if you have a few minutes.  You can click here to get to Apple Podcasts to leave your review and I will be oh-so grateful. Plus we are adding amazing episodes to the show and when you subscribe you won't miss a beat.
Interested in working with Amanda or learning more about her programs?  Click here to book a time to chat.